My name is Lilit Arushanyan. I am 16 years old. I study at Berd State College. I love almost everything in this world. I dream that one day evil will disappear from this world.
I really want to become a marketing specialist and before that, I'll try to reveal myself in volunteering and activism.
I love everything related to technology, so I try to challenge myself by participating in various school competitions. Recently I successfully passed to the next stage of the FLEX exchange program.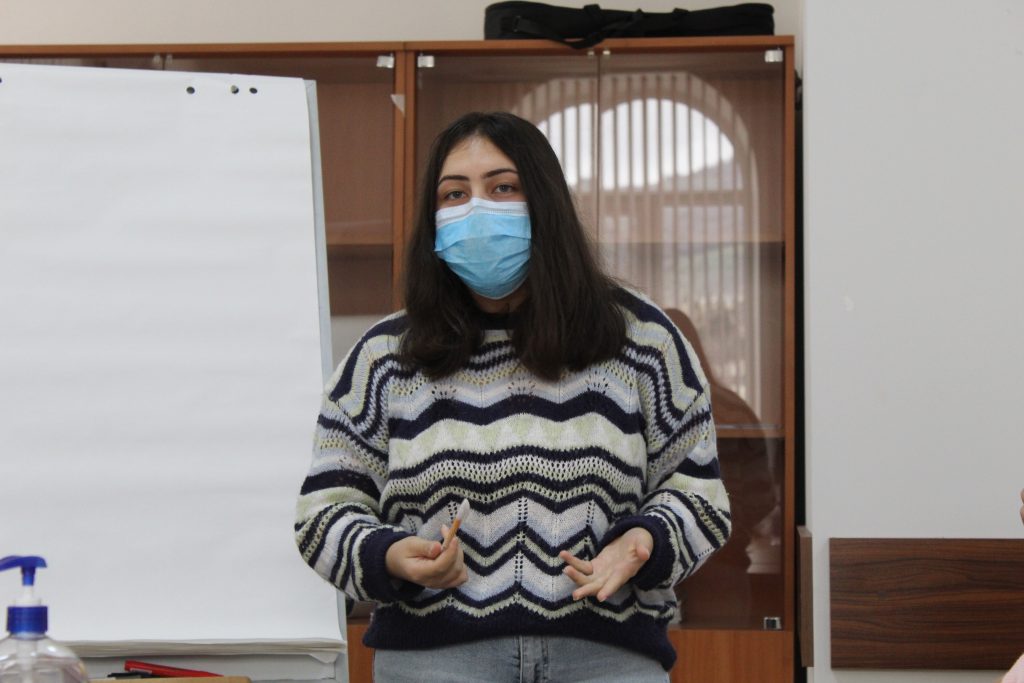 In my perspective, activism has a blue color with white clouds on it. I believe that activism brings peace. The activism I imagine is accompanied by active and rhythmic music.
If I remind myself of some examples of activism that motivate and inspire me, it will, definitely, be the movements that have started in Armenia, in particular, the Restart Gyumri, Vanadzor, Ijevan initiatives, which are truly motivating and what is the most important, they make a change. FYN also promotes changes by bringing activity to our communities. The experience I gained with my teammate Alina in the "Seed the Change" camp and our local actions sub-granted by the program, is priceless to me.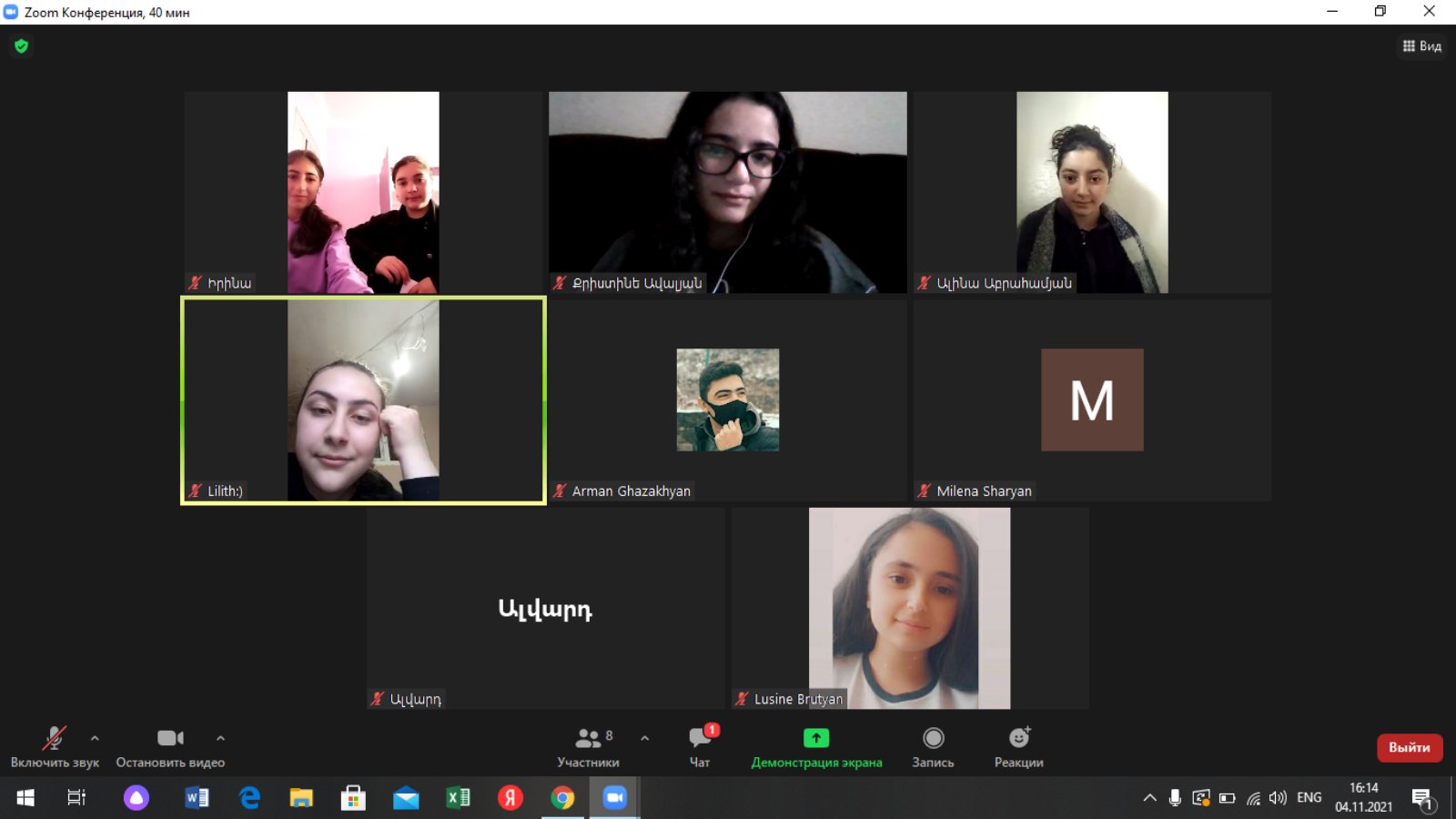 I associate nowadays young people with active, vibrant, colorful features to, however, I must say with regret that in my community young people are not always like that․ They are often closed and insociable. I desire for the moment when young people would not be in the role of a demander, but an initiator. I know everything will happen step by step since nothing is impossible. And then all of us will record happily that the young people of our community are bright, active and adventurous.
The hero of the film that embodies me would be the one who motivates everyone. And in the movie you would see the transformation of the very character, that is, how she is getting better day by day with continuous training and purpose. That character will have the supernatural power of seeing the good and kindness in everything and everyone.
Knowledge allows you to orient yourself in any situation. Alina's story
My name is Alina Abrahamyan, I am 16 years old. I have an extended family. I will describe myself as an active, art-loving youngster, an initiator. I like volunteering, I consider it to be an art also.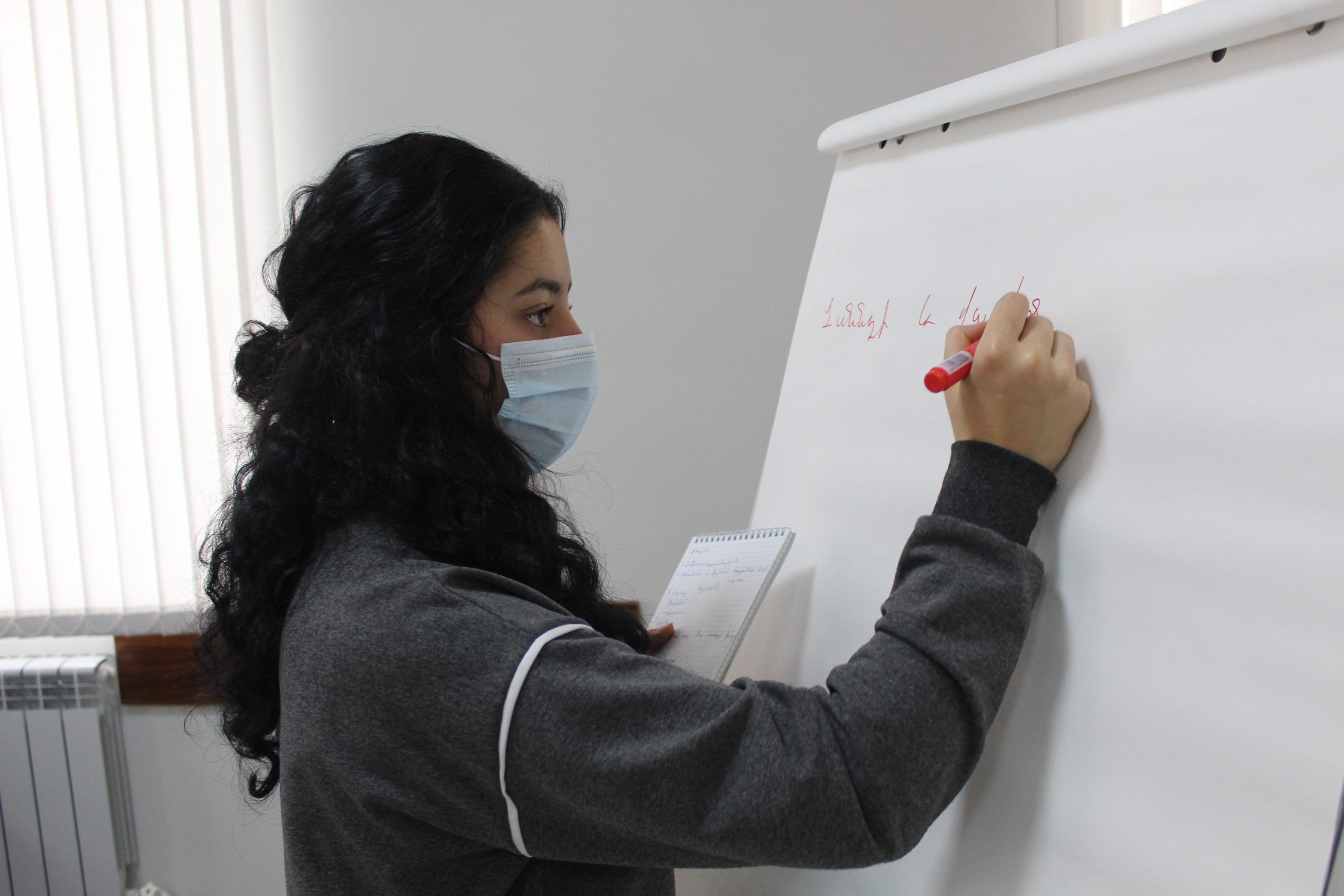 I associate activism with green color, just like in nature, everything is green and calm. The soothing, peaceful, yet dynamic and purposeful piano chords echo in the green environment. Activism is peace with a great component of mindfulness. This is exactly as our cooperation with FYN․ Here they guide us, give us a great deal of motivation. I have decided to lead my younger sister to the path of activism.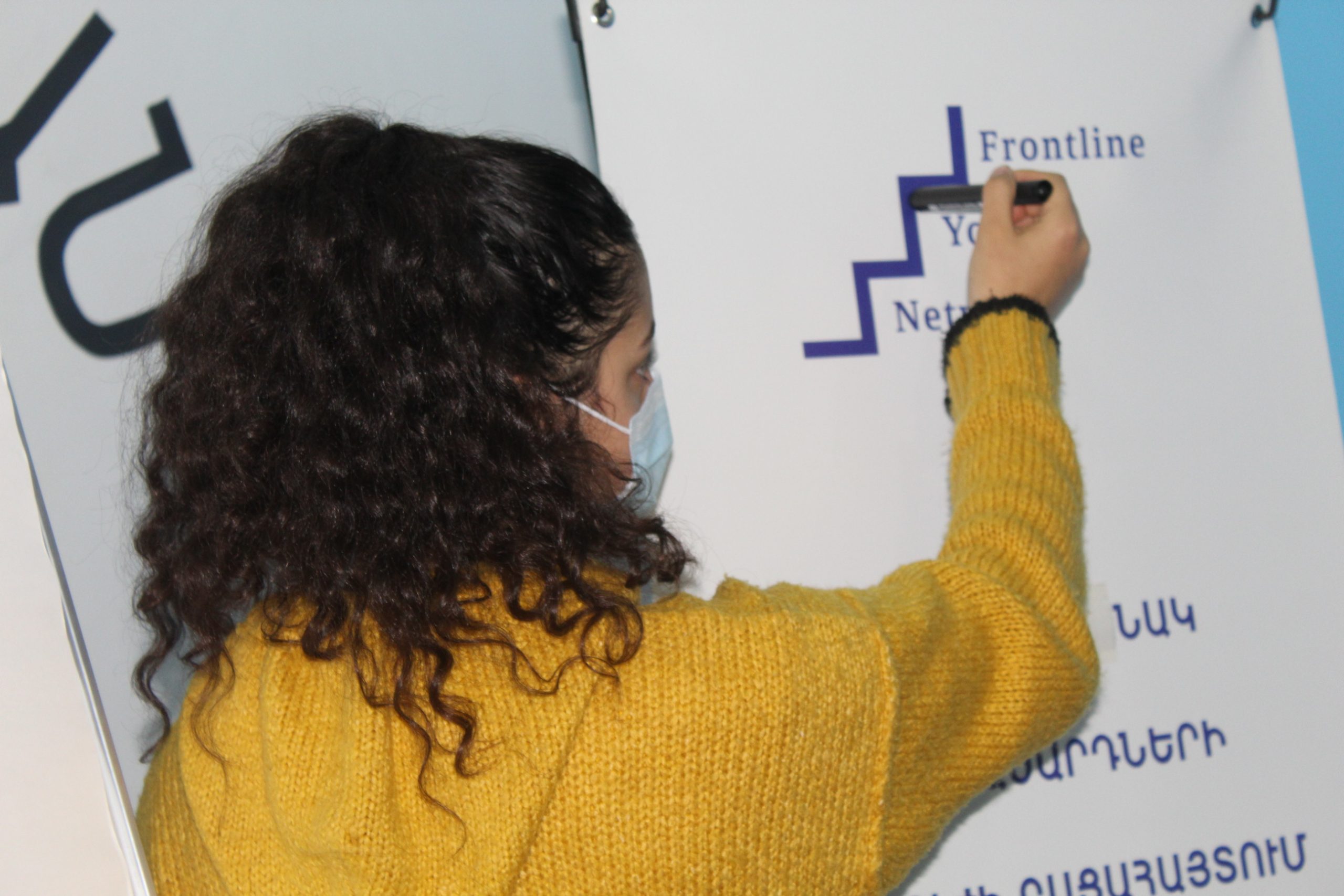 For me, youth is synonymous with intelligence. The young man is constantly trying to learn something new, constantly examining and exploring the surroundings, trying to find new opportunities for self-development. In our community, unfortunately, not always and not everyone is like that. I would very much like them to be independent and proactive.
I consider my supernatural power to be the ability to communicate with people through eye contact, silently, without any words. I love the world as it is. I just wish people would stop thinking stereotypically so that they would continue to develop. I have adopted the principle of constant self-education and hold strong belief that knowledge gives the opportunity to orient oneself correctly in any case.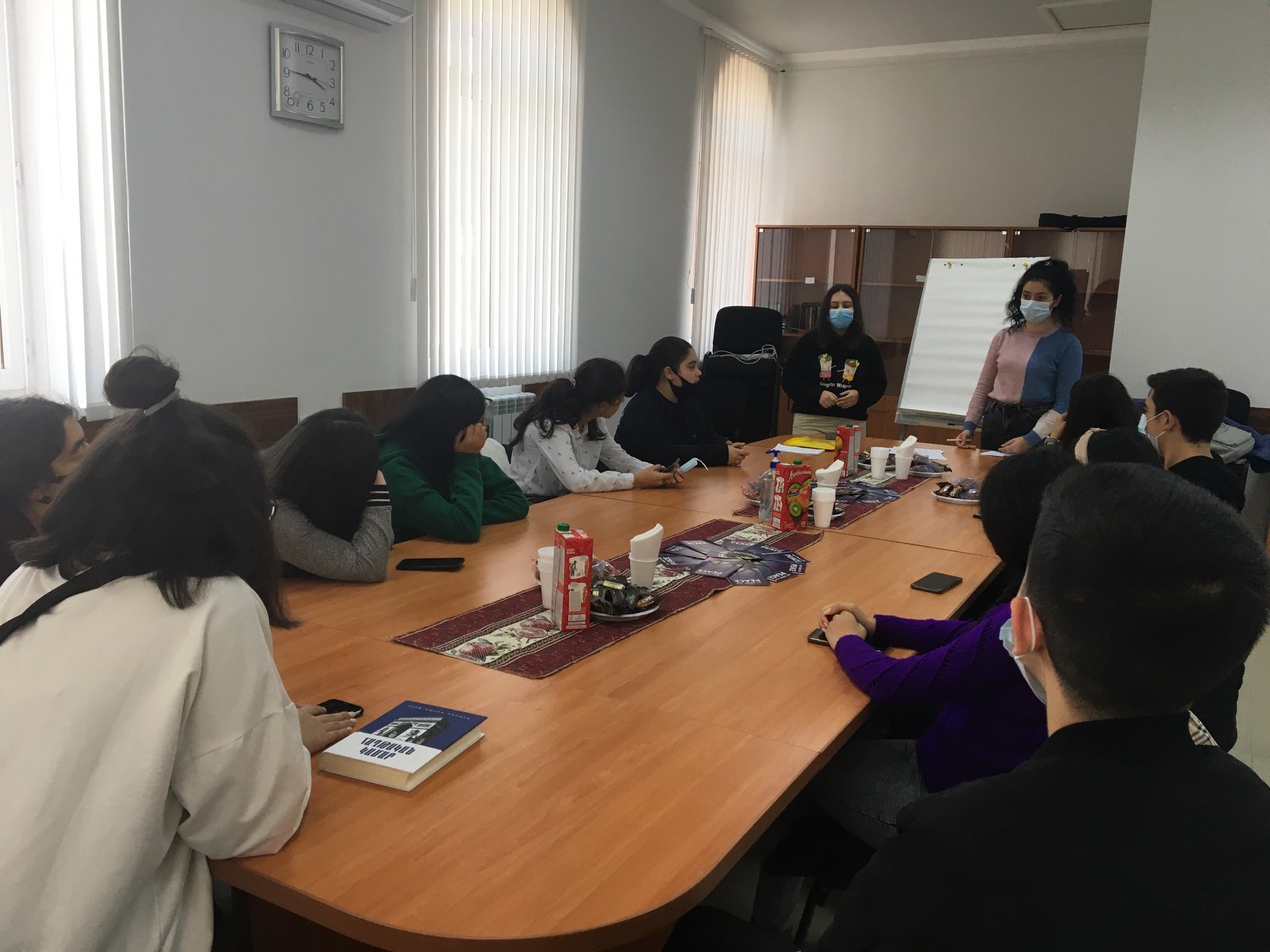 It is noteworthy that Lilit and Alina are graduates of the FYN camp "Seed the Change" (հայ․՝ ՍերմանելOFF ՓոփոխությON). Believing in the possibility of bringing change with small steps, two of them initiated the "Change in Our Hands" program in Berd community. Using the best example of teamwork, they created a platform for the youth of the community to learn, to express themselves, to offer solutions to various situational problems, to break away from the monotonous everyday life. The initiative, as they both state, made them more responsible, more experienced and confident. The implementation of the program has not always been smooth. They were trying to find joint solutions to overcome the difficulties they faced, keeping in mind their great goal.
Join us!
If you are a young change enthusiast, you are welcome to join FYN to advance change in our community, society and beyond.
Donate!
If you have the resources, please support our mission and activities we do by donating for a cause.
Storytelling written by Shushan Avetisyan
Translated by Liana Habeshyan
Edited by Mariam Avetisyan